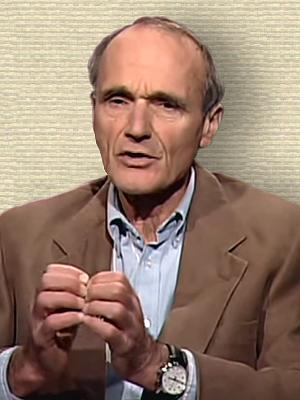 Dr. Gerald Schroeder
D-os ya sabe el final. D-os sabe el futuro pero no como un futuro. Habiendo creado el tiempo, D-os está fuera del tiempo. En tal dimensión, futuro, pasado y presente no tienen sentido, son todos simultáneos. El Nombre de D-os de cuatro letras: Iud, vav, he y vav, está compuesto de las letras, que quieren decir en hebreo "Yo fui, Yo soy y seré". Los tres tiempos están incluidos dentro de un Eterno "ahora".
Nosotros, sin embargo, vivimos en el tiempo. Entonces para nosotros, el futuro todavía no ha ocurrido.
La naturaleza nos da una pista de lo que significa estar fuera del tiempo. Las leyes de la relatividad nos han enseñado que a la velocidad de la luz, el tiempo se paraliza.
Para nuestra percepción, la luz viaja durante ocho minutos mientras se mueve del sol a la tierra. Pero si nos pudiéramos mover junto con la luz en su travesía, podríamos reportar que no pasó nada de tiempo durante la travesía del sol a la tierra.
Aquí en la tierra, estando dentro del tiempo, esos ocho minutos nos dan la oportunidad de escoger una variedad de actividades. Sin embargo, sus comienzos y finales aparecerían como si estuvieran ocurriendo simultáneamente desde la perspectiva de la luz.
De esta misma manera, aunque sea muy difícil de entender y esté totalmente fuera de la experiencia
Biografía del Autor
Dr. Gerald Schroeder recibió su PHD en Oceanografía y Física Nuclear de la universidad de MIT, y formó parte de su personal durante siete años. Hizo trabajos extensivos con la Comisión de Energía Atómica. Dr. Schroeder ahora vive con su familia en Jerusalem, Israel. Es el autor de Génesis and the Big Bang y The Science of God entre otros, que han sido traducidos a seis idiomas.
Según tomado de, http://www.tora.org.ar/preguntas-y-respuestas/