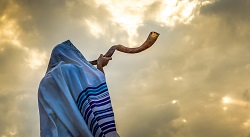 by Rabbi Bryan Zive
A few years ago, I sat with a rabbi emeritus of a large metropolitan congregation and we discussed the most practical of challenges of the rabbinate. He responded, "I struggled daily with how I present myself." After asking him to elaborate, he said, "Every day, people judged me about my decisions, my textual interpretations, and sermons I've given. But, some of the strongest judgment toward me addressed my clothing. They questioned when I wore a kippah, my talit, and a suit. Rarely did I refrain from wearing a tie on the bimah during services because I felt the holiness of our prayerful actions required it. Each of the few times I did not wear a tie, congregants noticed and pointed it out to me."
I have always wondered why people care so much about what their spiritual leaders wear on a daily basis. It frustrates me when people comment about my attire; I'd rather they comment about my words and actions. Further, I recognize that those who identify as female struggle even more with the same issue! Some of this may be due to differences that are geographical (on the West Coast, we often do services at the beach and dress casually), cultural (each community has its own customs), or situational (at camp, sandals are a must!). Regardless of location or context, the holiness of these moments require our respect, and therefore, our clothes must in some way demonstrate this.
Parashat T'tzaveh introduces descriptions of the bigdei kodesh, the "holy garb" worn by priests during their holy duties. God instructs Moses to tell the priests:
"You shall make a frontlet of pure gold and engrave on it the seal inscription: 'Holy to the Eternal.' Suspend it on a cord of blue, so that it may remain on the headdress; it shall remain on the front of the headdress. It shall be on Aaron's forehead, that Aaron may take away any sin arising from the holy things that the Israelites consecrate, from any of their sacred donations…" (Ex. 28:36-38).
Rashbam teaches that these frontlets shall be placed on the forehead, for this is where the sense of sight is located. When our spiritual leaders speak, teach, and lead us in song, we look directly into their eyes, constructing a bridge of holy emotion and connection to the prayer and material. The headwear gives us no other option but to be aware of it and, in turn, God's glory.
Of course, today, we do not have headwear like Aaron's frontlets. And yet, we still wear parts of the biblically ordained vestments. We wear tallitot and atarot, many of which contain the blessing for wrapping ourselves in our tzitzit or other meaningful, holy words. My atarah (the strip of material at the top of a tallit) says Achein, yeish Adonai bamakom hazeh, –"Truly, the Eternal was in this place" (Gen. 28:16), reminding me and anyone who observes me of the holiness of my service and the importance of our prayer. Each time I wrap myself in my tallit, I am reminded of that moment's sacred nature. When professional and lay spiritual leaders wear holy garments when actively performing sacred work, regardless of the setting, it can serve as an opportunity to explain to others why they dress to reflect the importance of the moment.
As Maimonides explains in Mishneh Torah, the priests were commanded to wear bigdei kodesh for glory and splendor (Hilchot K'lei HaMikdash 8:7). The rabbi emeritus I spoke with described wearing a tie because he felt the power of his actions and his responsibility to lead by example. Through clothing, he taught the congregation about the holiness of time on Shabbat. The community cared about what he wore for good reason: they expect our leaders to represent and embrace God's holiness. May we continue to proudly wear our bigdei kodesh to emphasize and respect the sacred nature of our prayer, teaching, and service to God and the Jewish people.
Rabbi Bryan Zive is assistant rabbi and director of congregational music at Congregation Shir Ha-Ma'alot in Irvine, CA. He was ordained from Hebrew Union College-Jewish Institute of Religion in Los Angeles.
As taken from, https://reformjudaism.org/learning/torah-study/ttzaveh/what-proper-attire-wear-sanctuary?utm_source=TMT-Monday&utm_medium=email&utm_content=20200302&utm_campaign=TMT&utm_medium=email&utm_content=2020_3_2#DavarAcher